Fairhope Lions Club
Meeting Place
Fairhope Yacht Club
101 Volanta Ave, Fairhope, AL 36532

Gallery
Website design and hosting by North Mobile Internet Services, Inc.

For the past 15 years the Fairhope Lions Club has been
supported by the generosity of our amazing community.
From our wonderful sponsors to our talented golfers we
cannot be more thankful for the community's continued
support. This year's tournament was a huge success!
We had 72 players enjoy a day of golf, good food, and
good times. Thank you to everyone who supported us.
We look forward to seeing you again next year. Please
enjoy the attached photos form the day's event.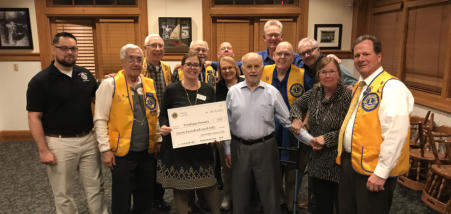 Front row from left to right is: Chad Jackson, Jerry Gottstine,
DeAnn Servos (Prodisee Pantry), Dr. Joe Fontenot, Linda
Fontenot, and our Club President, Paul Grundhoefer.
On February 20, 2020, the Fairhope Lions presented
their annual donation to help support the Prodisee
Pantry operation.
The Club also conducts an annual vision screening
event at the Prodisee Pantry facility for their clients.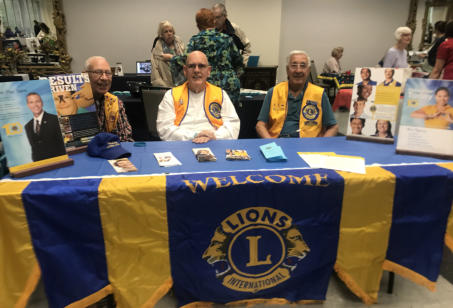 The Fairhope Lions Club was proud to take part in a
Volunteer Fair sponsored by the Nix Senior Center in
Fairhope, Alabama, on March 5th, 2020. The annual
event brings together numerous community outreach
organizations in an effort to show senior citizens ways
they can get involved supporting the community through
volunteerism. It's also a great opportunity for
organizations to get noticed by local seniors attending
the Fair.
Shown in the picture from left to right are Fairhope Lion
members Sonny Howard, Tom Johnston, and Jerry
Gottstine, three of eight Club members who were present
for the 3-hour event to promote Lionism and the
Fairhope Club.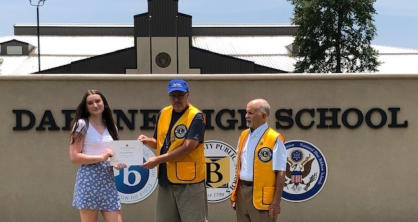 Fairhope Lions Club awards Luke
Lancaster Scholarship
Lions Steve Butler and Joseph Fontenot presenting
the 2020-2021 recipient of The Fairhope Lions Club's
Luke Lancaster $1000 scholarship to Kennedy
Constantini. Kennedy graduated from Daphne High
School with a cumulative GPA 4.49 (weighted), 4.0
(unweighted), and a 30 on the ACT.
While maintaining academic standards (member of
the National Honors Society since 2017), she was
actively involved with the Student Government
Association, the Key Club, and the Daphne Swim and
Dive Team on which she served as co-captain her
senior year. Although Kennedy was involved in
school activities, she found time to visit residents
weekly at the Veterans Home and participate in the
Girls Service Club. Kennedy worked also at Flowers,
ETC. as a delivery driver and retail specialist.
Kennedy is excited about pursuing her dream of
becoming an engineer. She has been accepted in the
School of Engineering at the University of Texas in
Austin.
Fairhope Lions Club Helps Fairhope
High School Band Program Purchase
Coolers
On November 3rd, Lion Steve Butler, representing
the Fairhope Lions Club, presented a $500 check to
the Fairhope High School Band. Members of the
band program, the "Wind Ensemble" (an elite-level
symphonic band in the program) were in attendance
to receive the check.
Pictured below are the members of the "Wind
Ensemble" holding coolers that were purchased.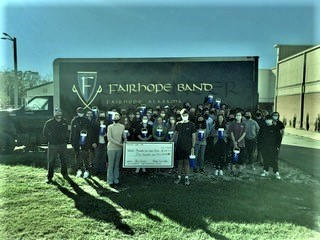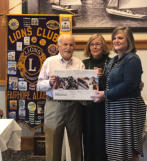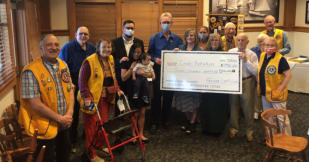 At our Club meeting Thursday, March 18th, 2021, we
presented the Executive Director of Camp Rapahope,
Melissa McNichol, with an Xbox One, Series S, pre-
loaded with 24 games, and a tuition check for two
children to attend Rapahope's Camp Week this summer.
Camp Rapahope is a terrific organization that serves and
cares for children with cancer. Their Camp Week is
renowned for allowing children the opportunity to put
cancer on hold and just have fun.
The photo on the left shows Lions Joe and Linda
Fontenot presenting the Xbox One to Melissa McNichol.
The group photo shows the Club presenting the Camp
Week tuition check to Melissa McNichol.
Fairhope Lions Club
Membership Growth Event
Our Club had a Membership Growth Event at the Fairhope
Yacht Club on Wednesday, May 26th. We had 30 people in
attendance, 11 were potential new member guests. Four
guests joined the Club that evening and two more
committed to join the Club. Community Service was the
central theme of the evening's program. Our Keynote
Speakers were Executive Directors DeAnn Servos from
Prodisee Pantry, Sally Dean from Ecumenical Ministries,
and Melissa McNichol from Camp Rapahope. All three
shared with the group what their organizations do to help
those in need, and how the Fairhope Lions Club supports
their efforts.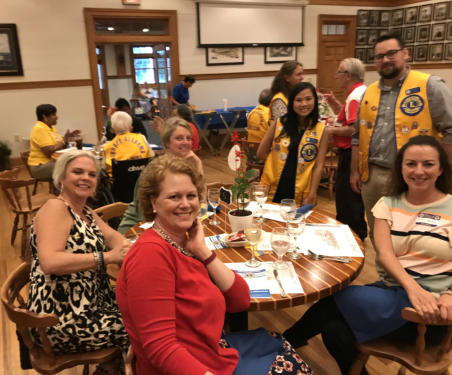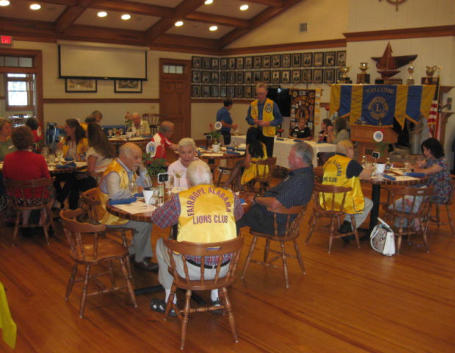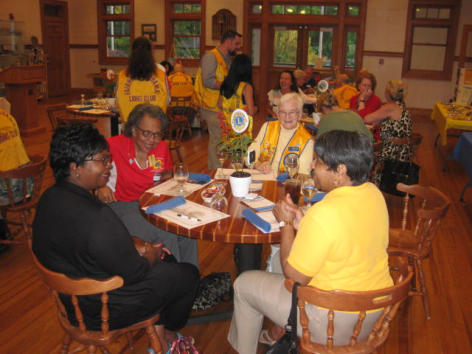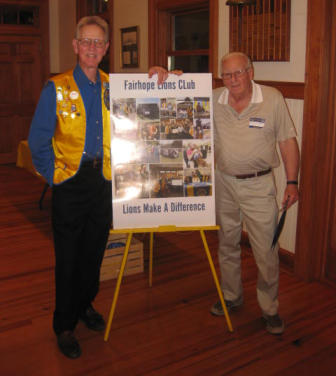 New Club members Kathryn Bridges, Rachel Hartman, Amy Strickland, and
Gale Croft with Lions Ling & Chad Jackson
Event attendees listening to opening Remarks from President Bill Bonniwell
New Member Kenya Young with Past District Governors Mary Turner, Yvonne
Burroughs, and Lion Lynne Clarke
Club President Bill Bonniwell and guest Mike Giordanelli
with a collage of recent Club Service Activities.

2021 Golf Tournament was a Huge Success!
Prodisee Pantry Check
Presentation
At a Club meeting on October 21, 2021, Lions Sonny
Howard & Amy Strickland presented DeAnn Servos,
Executive Director of Prodisee Pantry, with a $1000.00
check from the Club's golf tournament to help fight
hunger by feeding 40 families of four for a week with
nutritious meals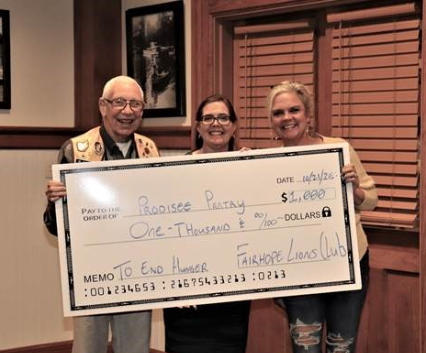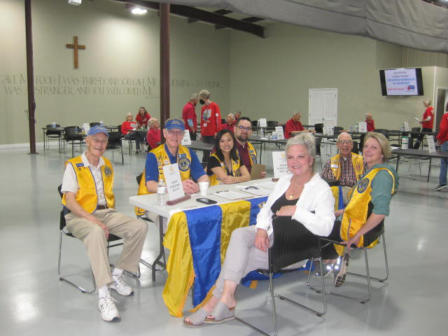 Vision Screening Event at
Prodisee Pantry
Our Club had a Vision Screening Event at Prodisee
Pantry in Spanish Fort on April 14, 2022. In addition to
acuity screening, we had an optometrist present to
perform glaucoma testing. We registered 26 folks for
screening and sent 13 on to Walmart for a complete eye
exam and glasses.
Photo on left is the registration team: Bill Clarke, Bill
Bonniwell, Ling Jackson, Club President Chad Jackson,
Sonny Howard, Kathryn Bridges, and Amy Strickland.
Photo on right is Lions and Optometrist that performed
the acuity screening and glaucoma testing. They are
from left to right: Bill Bonniwell, Ronald and Cynthia
Tatum, (Alabama Lions Sight), Dr. Joe Fontenot, and Dr
Cheri Glaus, O.D